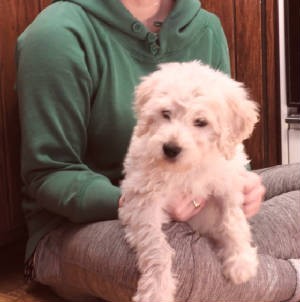 State of MN License: # 411422
Here is a quick list of what is available as of January 24, 2020.
.
We are having a hard time uploading photos to this site. Sorry that there aren't always photos here of the available puppies. Watching the video links is the best way to see the pups for now.
.
.
Mini/Medium Goldendoodles
.
.
1. S A L E: take $300 off of the original prices !!! Was $1,500, now only $1,200 each !!! See them in this video:
https://youtu.be/WjYZp6THZIE
savannah
.
.
.
4. Toby a 16 pound purebred Poodle sired a litter of pups out of our Mini Goldendoodle named Sweetie who is 26 pounds. We have 1 gold female and 1 gold male available. Ready for new homes now. $1,800 female, $1,600 male See them in this video:
https://youtu.be/yiPN8kgR4iU
(this earlier video shows Momma Sweetie
https://youtu.be/QSeLMJkL_0o
)
.
.
4. Next litter ready to go very end of January to early February. Merles, blacks, brindles, golds, browns - very colorful litter !! Pricing coming soon. Blue merles are $2,200
https://youtu.be/n-QhEirOTXQ
.
.
To see photos of our customer's doodles when they are grown, visit the "Regal Kennel" page on Facebook.
.
.