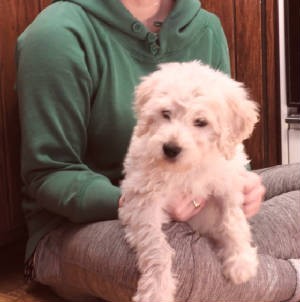 State of MN License: # 411422
Here is a quick list of what is available as of December 10, 2018.
.
We are having a hard time uploading photos to this site. Sorry that there aren't always photos here of the available puppies. Watching the video links is the best way to see the pups for now.
.
.
Mini/Medium Goldendoodles
.
.
*** You have to "copy and paste" the video links - you can't click on them. Or go to "youtube.com" and find "doodlelady" channel. ***
.
Puppies ready to leave now:
.
1. Aussiedoodles - Vanner sired: Freckles and Vanner have a litter. ON SALE for $1,300 was $1,800. Chocolate merle male with green eyes. Video links can be found on the "Available Aussiedoodles" page.
.
2. Dora and Rodney are the proud parents of a new Mini / Micro Mini Goldendoodle litter. All red to apricot in color. Repeat litter, previous litters have been 15 to 20 pounds typically. Ready for new homes now. Can hold until Christmas. $2,000 each. Males and females available. See them in these videos: males:
https://youtu.be/O-RbCZMC1qM
females (the staighter haired one has been sold) :
https://youtu.be/CPzR5ZEhpV4
Puppies ready to leave soon:
.
.
2. Vanner has a new litter of gorgeous "medium" sized Goldendoodles that will be ready for new homes 12-18 to 12-25. Only male puppies in this litter. 1 very very rare chocolate merle male $2,400. 3 silver/blue merle males $2,200. 2 Cream/Gold males $1,800 (The black male has been reserved) $1,400 See them in this video:
https://youtu.be/sOfQXkIEgfI
.
3. Vanner (yes we keep him very happy here !!) has a new litter of small standard size F1 Goldendoodles. Milli Vanilli is the mom, our beautiful ivory colored 48 lb. Golden Retriever. They can leave our home starting on 12-22. 2 Blue Merle Males $1,800, 2 Cream/Gold Females $1,600, 2 cream/gold Males $1,300, 2 Black Males $800 (one has been reserved). See the merles and blacks in this video: https://youtu.be/dKgxuibmMW0 See the creams and golds in this video: https://youtu.be/z6rCCeRNU8Q
.
Puppies we are hoping will be born soon:
.
Maybe having new pups born end of January ?
.
.
.
To see photos of our customer's doodles, visit the "Regal Kennel" page on Facebook.
.
.