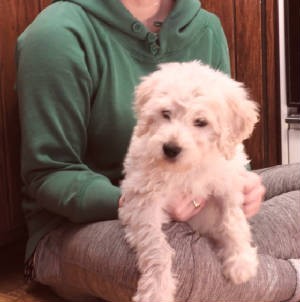 State of MN License: # 411422
Here is a quick list of what is available as of August 22, 2019.
.
We are having a hard time uploading photos to this site. Sorry that there aren't always photos here of the available puppies. Watching the video links is the best way to see the pups for now.
.
.
Mini/Medium Goldendoodles
.
.
*** Sometimes you have to "copy and paste" the video links - if you can't get them to play by clicking on them. Or go to "youtube.com" and find "doodlelady" channel. ***
.
.
.
.
2. A litter of mini to micro mini goldendoodles born. We have one micro cream/gold male available for $2,000 (he might even have blue eye color !!) 1 micro female rare blue merle $2,200 (SOLD), 1 mini apricot female $1,800 (hold) Outright reservations for specific puppies can be done at any time (since there is only one of each color). Ready for new homes around September 18th. See them in this video:
https://youtu.be/6wm4PTaYRto
.
3. A Vanner sired litter of mini to medium born on August 21st. Details to come.
.
To see photos of our customer's doodles, visit the "Regal Kennel" page on Facebook.
.
.