.
We'd love to share more information about the darling puppies that we have available. So when you send us your introduction, as written about on our "purchasing process" page, and let us know the SPECIFIC DATE that you want to get a puppy, then we will send you a complete listing of all of the available puppies that would meet your timing and criteria. The list will include pricing and video links.
.
There is NO difference between a Mini Retriever and a Mini Golden Retriever. They are the same thing. People just use both names.
!!! Do send us your introduction as asked for on our purchasing process page if you want to receive any additional information from us.
.
.
1. Most of our dogs are on a rest and so are we. We will be only occasionally available between May 15th and July 1st. Feel free to send an introduction email, but we would like to not have to send replies at this time in regard to Miniature Retrievers. Our next expected litters would be born in late July perhaps.
.
2. We are thinking of trying out a "Guardianship Program" for the first time where people that are homeowners and live within 1 1/2 hours of Elk River would have a chance at owning a female puppy/dog of ours on a contract basis to have her have a litter or two of pups for us and they get free ownership after that and other perks. f this is of interest, reach out. We haven't developed the program yet, but many dog breeders are now working with this type of arrangement. These would be females 12 months or under in age. We have one female puppy that is ready now for this program, see her in this video: https://youtu.be/lQFsv4FSI9Q Other pups that can be considered are Mazel, Tiffany, JoJo and Dot.
.
Our next Mini Retriever litters won't be born until after July 1st, so no pups ready to leave until around the end of August or September.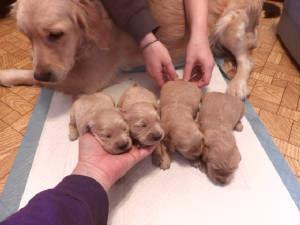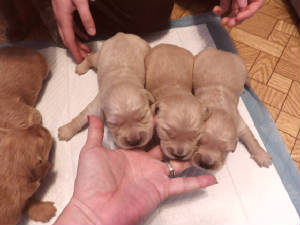 .
Find us on Facebook at "Regal Kennel"
.