.
We'd love to share more information about the darling puppies that we have available. So when you send us your introduction, as written about on our "purchasing process" page, and let us know the SPECIFIC DATE that you want to get a puppy, then we will send you a complete listing of all of the available puppies that would meet your timing and criteria. The list will include pricing and video links.
.
There is NO difference between a Mini Retriever and a Mini Golden Retriever. They are the same thing. People just use both names.
!!! Do send us your introduction as asked for on our purchasing process page if you want to receive any additional information from us.
.
.
1. Maple a 20 pound Toy/Miniature Retriever D.O.B. 6-8-2018 Has been spayed. Very rare super tiny size. $2,400 See her in this video: https://youtu.be/ExShT96KuWI (The video mistakenly says she is 11 weeks old, but she is 11 months old) We prefer that her new owners come and meet her in person, so we would prefer she not go on an airplane.
.
2. Pick of litter female, $1,800 See her in this video: https://youtu.be/8S0N6gkV9mc temp hold 6-19
.
3. Our newest litter has go home dates of July 9th to July 16th. Star x Riley. $2,000. A reservation list has been started. You can get on the reservation list if you are open to either male or female. See them in this video: https://youtu.be/ZsoxoDjTuzI

.
4. We are so excited to have Butter's first litter here now !! Lolli x Butter with go home dates of 8-6 to 8-13. Fly out dates 8-13 to 8-17. No video yet. Only MALE puppy reservation fees will be taken.
.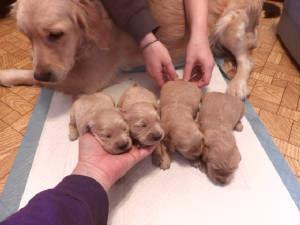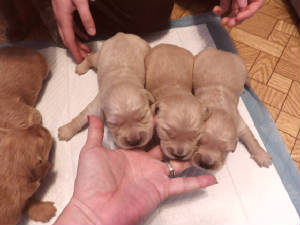 .
Find us on Facebook at "Regal Kennel"
.