.
.
There is NO difference between a Mini Retriever and a Mini Golden Retriever. They are the same thing. People just use both names.
!!! Do send us your introduction as asked for on our purchasing process page if you want to receive any additional information from us. THANK YOU !!!
.
.
1.
Peggy 28 lbs. and Teeny Tony 24 lbs have a litter that is ready to go now! See all three females in this video:
https://youtu.be/y0DOxd0NyFY
a. 1 gorgeous cream female $2,400.00
b. gold puppy - SOLD
c. Teeny Tiny Toy sized female $3,000.00
.
.
2. Star x Basil
.
.
3. MoMo x Cody We have 1 sweet male puppy that is black in color.
.
.
.
5.
Polly x Cody - $2,800 or less. Super gorgeous, small size for such a high Golden percentage (80%) go home date of January 4:
https://youtu.be/4QlFwj1GWnQ
.
6.
TiKi x Monte - These are $1,800 each. A new "line" for us, incorporating more Spaniel. This litter is 38% Golden, 25% Cavalier, 25% Cocker, 12% Poodle. Go home date of Jan 6:
https://youtu.be/ivOP2dF94Lg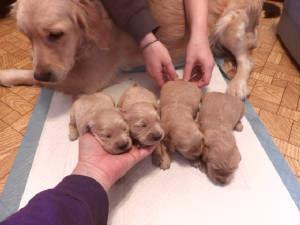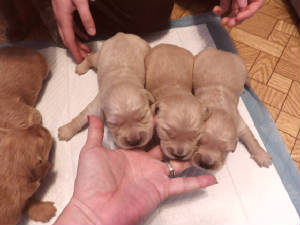 .
Find us on Facebook at "Regal Kennel"
.
Prices are subject to change without notice.
All monies paid to seller/breeder are NON-REFUNDABLE unless dictated by MN State Law.
.
MN State License #411422