.
We'd love to share more information about the darling puppies that we have available. So when you send us your introduction, as written about on our "purchasing process" page, and let us know the SPECIFIC DATE that you want to get a puppy, then we will send you a complete listing of all of the available puppies that would meet your timing and criteria. The list will include pricing and video links.
.
There is NO difference between a Mini Retriever and a Mini Golden Retriever. They are the same thing. People just use both names.
!!! Do send us your introduction as asked for on our purchasing process page if you want to receive any additional information from us.
.
.
1. Maple. She is a super tiny and very rare size. D.O.B. 6-8-2018 Has been spayed. $2,000 See her in this video: https://youtu.be/tjqKRdKKiM0 https://youtu.be/18zzIRda7UE For her we want her new owners to meet her in person, also we don't send her on an airplane. She is partially potty trained.
.
.
.
.
.
.
.
8. The smallest female in this video, $2,200 what a little peanut ! https://youtu.be/4TB3qJD1Sd4 Taffy
9. Male puppies: https://youtu.be/1aZbz-RtlQM 1. Largest, $2,000 2. 5 lb., reserved 3. 4 lb. lighter, $2,000 4. 4 lb. darker, $2,000 5. 3 3/4 lbs., reserved
.
Our litters come in "clusters" and so right now is a great time to select a puppy on through to a go home date of early November will be some good selection.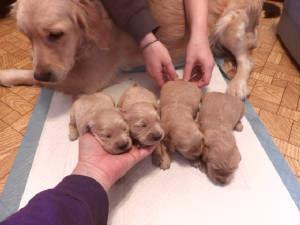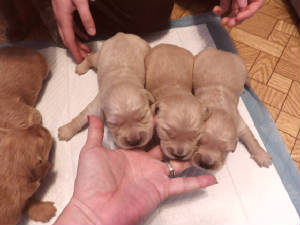 .
Find us on Facebook at "Regal Kennel"
.