.
.
There is NO difference between a Mini Retriever and a Mini Golden Retriever. They are the same thing. People just use both names.
!!! Do send us your introduction as asked for on our purchasing process page if you want to receive any additional information from us. THANK YOU !!!
.
1. We have availability on a reservation list. $3,500.00 give or take SERIOUS INQUIRIES ONLY PLEASE. Go home dates ranging between 2-27 to 3-5. Sizes are most likely not going be super tiny. We would figure 40 lbs average - 35 to 50 could be the range? Too young to even guess. We can email video links to those that provide their application information.
.
2. We have a male puppy ready March 5th, $4,000.
People will have to keep an eye on the website for litter announcements and email us when we have something that they are interested in. Of course you can still write to us and introduce yourselves ahead of time. That will put you into our email archive on a specific date and that will establish a date that you originally inquired, which could be meaningful in the future.
.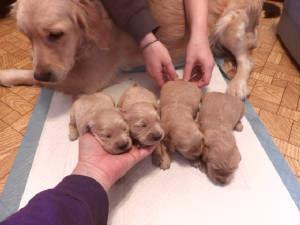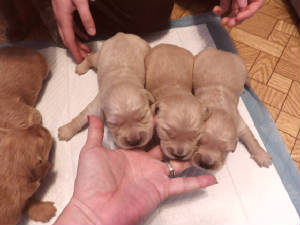 .
Find us on Facebook at "Regal Kennel"
.
MN State License #411422