.
We'd love to share more information about the darling puppies that we have available. So when you send us your introduction, as written about on our "purchasing process" page, and let us know the SPECIFIC DATE that you want to get a puppy, then we will send you a complete listing of all of the available puppies that would meet your timing and criteria. The list will include pricing and video links.
.
There is NO difference between a Mini Retriever and a Mini Golden Retriever. They are the same thing. People just use both names.
!!! Do send us your introduction as asked for on our purchasing process page if you want to receive any additional information from us.
.
1. New pups are here! We will have two or more male puppies available. Details coming December 10th. Remember to provide your introduction as noted on the purchasing process page. Go home dates for pick up starting December 9th. Fly out dates begin on December 15th and on through to the 22nd. Cold weather could impact/prevent flying.
.
.
.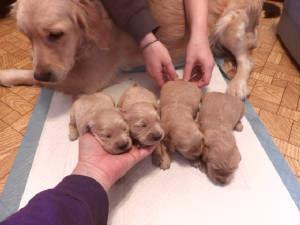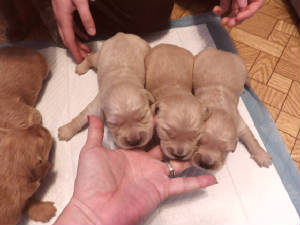 .
Find us on Facebook at "Regal Kennel"
.